Questionnaire open – deadline 26.05.2017 – Answer here!
This is Joensuu – who else is in?
Here in Joensuu people are proud of our hundred-year-old city hall. Until now, the European Flag has never waved atop its tower. Soon it will be hoisted – and here is why.
In the Borderland
Our city, the capital of North Karelia in Finland, is not exactly located in the middle of Europe: To reach Joensuu it takes 2 006 kilometres from Brussels, 1 479 from Berlin, 2 269 from Paris and 3 060 from Nicosia. The city lies farther East than Poland, Slovakia or Bulgaria, even sharing a 30 km frontier with Russia.
We acknowledge being borderland, in the middle of nowhere among forests and lakes. Our football skills may be a bit behind those of our Icelandic friends, but it doesn't prevent us from following the games, nor of dreaming about a victory over the Spaniards one day…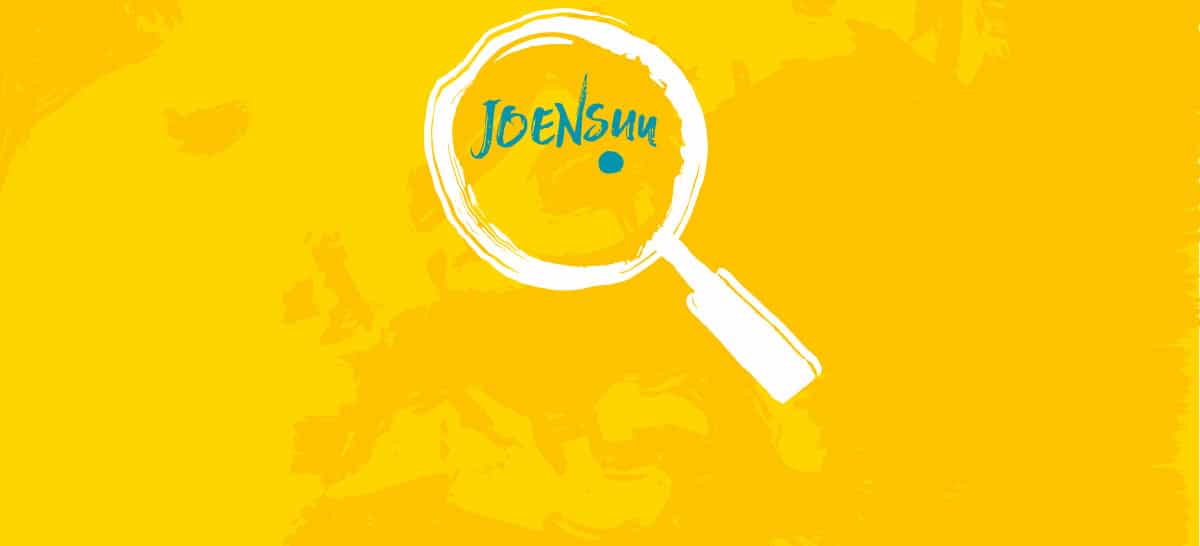 We shop for the same food and beverage brands as you do, and yet many of us equally enjoy picking berries, fishing or hunting elk in autumn time. Our porcini mushrooms eventually find their way to the world-renowned kitchens of Italy. If you like tzatziki and souvlaki, we can recommend the Greek restaurant on our market square, which was recently decorated with Union Jacks, by the way.
There are 76 000 of us altogether, a third are less than 25 years old, many of them students at the University of Eastern Finland. We are a region of knowledge-based bio-economy, to put it in a sophisticated way. Every July we host a big rock festival and listen to performing artists from all corners of Europe – and maybe turn the town upside down.
The highest temperature in Finland was measured at Joensuu airport in the summer of 2010. That record of +37.2 degrees Celsius is remarkably higher than the not so infrequently experienced -30'C in wintertime. Luckily we can always escape to the heat of the sauna as we fight the darkness and freezing cold. The amounts of snow have become less abundant than we were used to; apparently climate change is a reality here, too.
Our educational system is an object of special pride for us. Somehow we seem to train teachers who know the secret path of achieving it. But everything isn't that rosy, of course: we also suffer from high unemployment and struggle to get more jobs and new growth in the local economy. Many of you know from own experience what we are talking about.
From Outside to Inside
Prior to the EU times, our connections to Europe mainly consisted of exchanges with sister cities and occasional interaction to the wider Europe via Helsinki, the capital city. Over the past 22 years we've been able to establish an entire network of valuable connections and entered into collaborations opening new possibilities in developing our own community and quality of life. Travelling outside the Nordics used to be luxury for many of us; now it is so much easier and more affordable.
Proclaiming the Value of being European
Back to the flag and the tower then. As said, until now, the European Flag has never waved atop of our city hall. Now we have ordered one. And we are planning to host it atop our City Hall on Thursday 28 July in the morning.
It is time to show that we value being European. We are not perfect, but together we can work for a future that is better for us and for the generations to come. Let's make sure we all can live in safety, visiting each other regardless of national borders, sharing and joining, living in peace and liberty.
Today we receive more than enough information, an overflow making it impossible to digest and understand all that we read and hear. This almost too complex world reaches us through electronic channels on a global scale. Therefore, we need better local leadership to show that people are cared for, to provide support for families, for education, appropriate care for the elderly and more job opportunities. We need to do more to make our citizens feel secure and supported, so people will have all that is required to lead their everyday lives.
This may be a small gesture, but it is meaningful. Please share the day with us. We believe the stakes are worth the effort.
Who else is in?
---